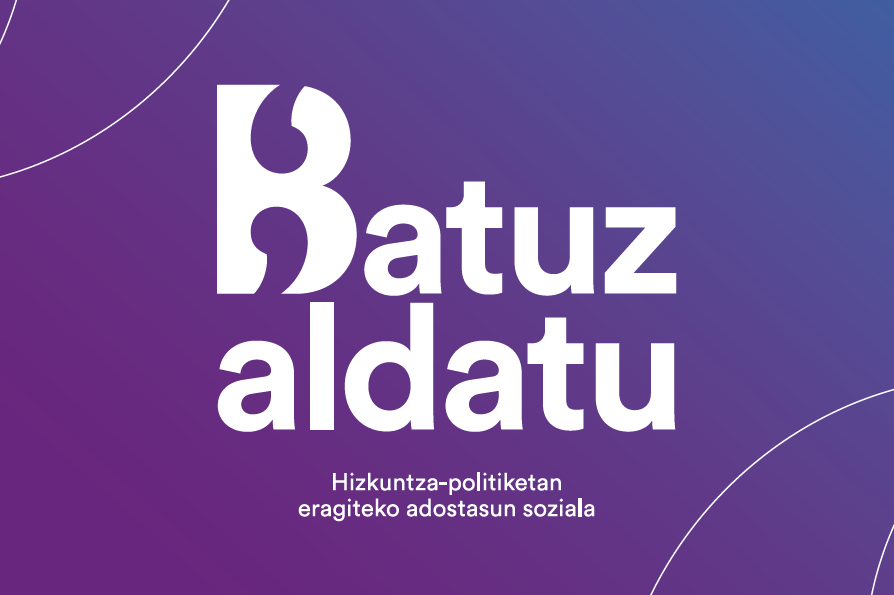 Batuz aldatu – Social consensus to influence language policies
The social consensus initiative to influence language policies promoted by Euskalgintzaren Kontseilua has taken the name of Batuz aldatu. It is time to make the leap: for linguistic rights, for social cohesion, for the Basque. To this end, the document presented on 19 June is intended to be a roadmap for the new language policy.
–
–
Objetive and direction
The proposal focuses on several principles: the need to respect linguistic rights in order to combat discrimination and deepen coexistence, the cross-cutting nature of linguistic policy, the socio-political and progressive nature of the standardisation process… All this is based on the fact that linguistic policy must be developed taking into account the linguistic diversity of Euskal Herria.
The main objective for the future is to create conditions for a comfortable use of the Basque. To this end, linguistic rights must be guaranteed in all areas, so that anyone who wants to do so has no objection.
Two directions have been set in this way. On the one hand, the universalization of language knowledge must be encouraged so that all citizens have the right capacity to express themselves in the Basque language. On the other hand, spaces for the use of the Basque should be created, developed and interrelated in comfortable conditions, so that anyone who wishes to do so has no objection to its use.
–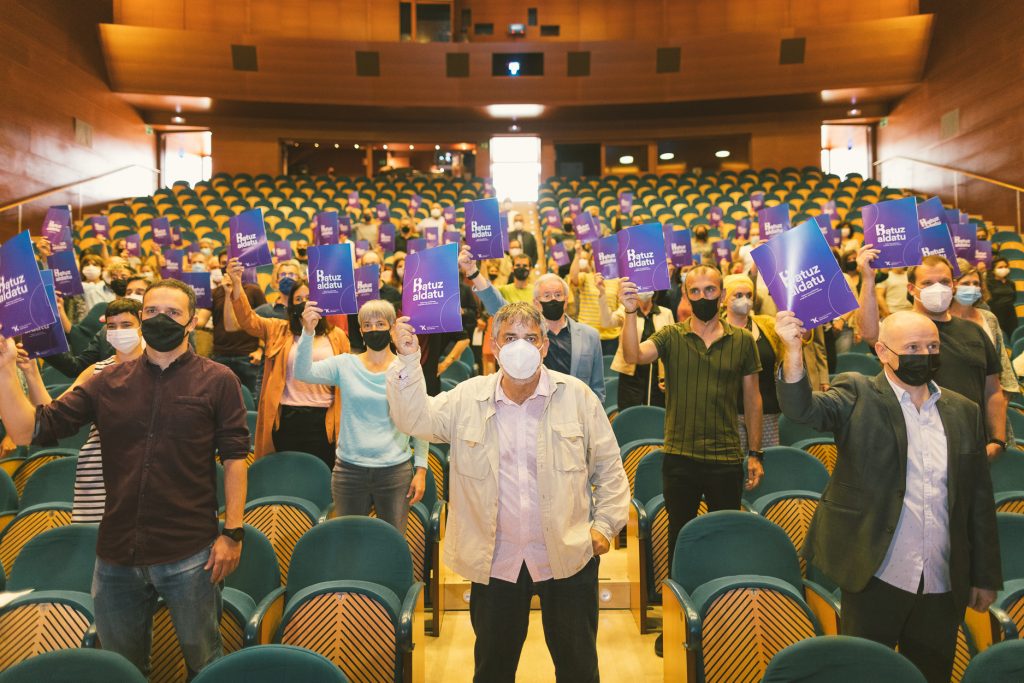 –
Signatory agents
A total of 113 different agents have joined the document Batuz aldatu.
ADMINISTRAZIOAN EUSKARAZ TALDEA
AEK
AGIRRE LEHENDAKARI CENTER
AHOTSENEA
ARTEZ
ATHLETIC CLUB FUNDAZIOA
BAI EUSKARARI ELKARTEA
BEHATEGIA
BERRIA TALDEA
BILGUNE FEMINISTA
BIZIPOZA
BIZKAIA IRRATIA
BIZKAIKO ABOKATUEN ELKARGO OHORETSUA
BIZKAIKO URTXINTXA ESKOLA
DANTZAN
DINDAIA FUNDAZIOA
EGI – EUZKO GAZTEDI
EHIGE
EHNE SINDIKATUA
EIZIE
EKOLOGISTAK MARTXAN
EKONOMISTEN EUSKAL ELKARGOA
ELA SINDIKATUA
ELHUYAR TALDEA
ELKAR FUNDAZIOA
EMUN KOOPERATIBA
ERNAI
ESK SINDIKATUA
EUSKAL AKTOREEN BATASUNA
EUSKAL DANTZARIEN BILTZARRA
EUSKAL EDITOREEN ELKARTEA
EUSKAL HERRIAN EUSKARAZ
EUSKAL HERRIKO ANTZERKIZALE ELKARTEA
EUSKAL HERRIKO ARKITEKTOEN ELKARGO OFIZIALA – BIZKAIKO DELEGARITZA
EUSKAL HERRIKO BERTSOZALE ELKARTEA
EUSKAL HERRIKO GUTUN SOZIALA
EUSKAL HERRIKO IKASTOLAK
EUSKAL HERRIKO LABORARIEN BATASUNA
EUSKAL HERRIKO LABORANTZA GANBARA
EUSKAL HERRIKO LEHEN MAILAKO PEDIATRIA ELKARTEA
EUSKAL IDAZLEEN ELKARTEA
EUSKAL KONFEDERAZIOA
EUSKAL KONTSUMITZAILEEN ALKARTEA
EUSKAL MEMORIA FUNDAZIOA
EUSKAL MONETA
EUSKAL WIKILARIEN ELKARTEA
EUSKALTZALEEN TOPAGUNEA
EUSKARAGILEAK ENPRESEN BATZORDEA
EUSKO IKASKUNTZA
EZKERRABERRI FUNDAZIOA
FARMAZIALARI EUSKALDUNEN ELKARTEA
GARABIDE
GAURGEROA – EUSKAL HERRIKO JUBILATU ETA PENTSIONISTEN ELKARTEA
GAZTE ABERTZALEAK
GAZTE EUSKALTZALEON SAREA
GEHITU – EUSKAL HERRIKO LESBIANA, GAY, BISEXUAL, TRANS ETA INTERSEXUALEN ELKARTEA
GEREDIAGA ELKARTEA
GERRIKO KULTUR ELKARTEA
GIPUZKOAKO ABOKATUEN ELKARGO PRESTUA
GIPUZKOAKO ERIZAINEN ELKARGOA
GIPUZKOAKO SENDAGAIGILEEN ELKARTEA
GIPUZKOAKO SENDAGILEEN ELKARGO OFIZIALA
GURE ESKU
(H)EMEN ELKARTEA
HEIZE – EUSKAL ESKOLA PUBLIKOEN ZUZENDARITZA ELKARTEEN FEDERAZIOA
HEKIMEN
HEZTEN AISIALDI EUSKALTZALEA
HIK HASI
HIRU SINDIKATUA
HIRUKI LARROSA
HITZ – EUSKAL TEKNOLOGIAKO ZENTROA
HITZEZ EUSKALTEGIA
HIZKUNTZ ESKUBIDEEN BEHATOKIA
IBAIA – IKUS-ENTZUNEZKOEN EUSKAL EKOIZLE BURUJABEEN ELKARTEA
IKAMA
ILAZKI EUSKALTEGIA
IRRIEN LAGUNAK
JAKIN ALDIZKARIA
KARMELDARRAK
KATXIPORRETA
KONFEKOOP – EUSKADIKO KOOPERATIBEN KONFEDERAZIOA
KRISTAU ESKOLAK
KUKULAISI
LAB SINDIKATUA
LANARTEA – EUSKARAREN LANGILE PROFESIONALEN ELKARTEA
MAIZPIDE EUSKALTEGIA
MINTZAIAN – HENDAIAKO EUSKARA ETA KULTUR ELKARTEA
MINTZALASAI
MINTZANET
MONDRAGON KORPORAZIOA
MONDRAGON UNIBERTSITATEA
NAFARROAKO ATENEOA
NAFARROAKO ETA ERRIOXAKO IKA
OEE – OSASUNGOA EUSKALDUNTZEKO ERAKUNDEA
OINHERRI
OLATUKOOP
ORDIZIA RUGBY ELKARTEA
PANTAILAK EUSKARAZ
PUNTUEUS FUNDAZIOA
REAL SOCIEDAD FUNDAZIOA
SORTZEN
SOZIOLINGUISTIKA KLUSTERRA
STEILAS SINDIKATUA
SUKAR HORIA
TELESFORO MONZON ELAB
TINKO EUSKARA ELKARTEA
TOKIKOM
UDAKO EUSKAL UNIBERTSITATEA
URRATS EUSKALTEGIA
UZEI
XAKE ESPAZIOA
XUTI – IPAR EUSKAL HERRIKO GAZTEEN ERAKUNDEA
ZABALIK AMIKUZEKO EUSKALGINTZA
–
Future challenges
Based on the document agreed with the agents, Euskalgintzaren Kontseilua poses three challenges for the near future.
Expanding the content and reaching a larger number of agents: it is clear that there is a need to reach social areas that have not been worked on, as well as other agents in the social areas that have joined this proposal. And of course, Kontseilua must also reach the citizens who are the engine of a language.
Initiating the definition of sectoral strategies: to influence the normalization process of the Basque, and based on the priorities set out in the document, it is intended to address work by area.
Achieving the leap from social consensus to political consensus: the process of normalization of a language is social and political. It needs a strong social leg, but also a strong political leg. That is why Kontseilua intends to turn these strong social consensus into political consensus.